Nim's Island Showtimes and Tickets
Read Movie Reviews about Nim's Island Write a Movie Review for Nim's Island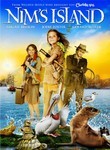 Synopsis...
Anything can happen on Nim's Island, a magical place ruled by a young girlÂ's imagination. It is an existence that mirrors that of her favorite literary character, Alex Rover--the worldÂ's greatest adventurer. But Alexandra, the author of the Rover books, leads a reclusive life in the big city. When NimÂ's father goes missing from their island, a twist of fate brings her together with Alexandra. Now, they must draw courage from their fictional hero, Alex Rover, and find strength in one another to conquer NimÂ's Island.
Cast and Crew
Starring
Jodie Foster, Gerard Butler, Abigail Breslin, Morgan Griffin, Anthony Simcoe, Jay Laga'aia, Christopher Baker, Tony Bellette, Rhonda Doyle
Directed by Jennifer Flackett, Mark Levin
Produced by Paula Mazur, Cary Granat
Written by Paula Mazur, Jennifer Flackett, Joseph Kwong, Mark Levin, Wendy Orr
Searching for Showtimes ...
Please specify your location using the form below
Write a review for Nim's Island