Nick & Norah's Infinite Playlist Showtimes and Tickets
Read Movie Reviews about Nick & Norah's Infinite Playlist Write a Movie Review for Nick & Norah's Infinite Playlist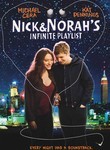 Release Date: 2008-10-03
Genre: Comedy,
Rating: PG-13
Duration: 1hr 30min
Synopsis...
"Nick & Norah's Infinite Playlist" is a comedy about two people thrust together for one hilarious, sleepless night of adventure in a world of mix tapes, late-night living, and, live, loud music. Nick frequents New York's indie rock scene nursing a broken heart and a vague ability to play the bass. Norah is questioning pretty much all of her assumptions about the world. Although they have nothing in common except for their taste in music, their chance encounter leads to an all-night quest to find a legendary band's secret show and ends up becoming the first date in a romance that could change both their lives.
Cast and Crew
Starring
Michael Cera, Kat Dennings, Alexis Dziena, Ari Graynor, Aaron Yoo, Matt Burns
Directed by Peter Sollett
Produced by Paul Weitz, Chris Weitz, Adam Brightman, Andrew Miano
Written by Rachel Cohn, David Levithan, Lorene Scafaria
Searching for Showtimes ...
Please specify your location using the form below
Write a review for Nick & Norah's Infinite Playlist