Newton Boys Showtimes and Tickets
Read Movie Reviews about Newton Boys Write a Movie Review for Newton Boys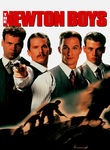 Dvd Release Date: 1999-05-25
Genre: Drama,
Rating: PG-13
Duration: 2hrs 01min
Synopsis...
Ragtime cowboys turn bank robbers, in a hyper-stylized romp around the not-so-Old West. Amusing, fact-based story, about the most successful bank robbers in U.S. history.
Cast and Crew
Starring
Christian Slater, Liam Neeson, Mary Steenburgen, Cameron Diaz, Vincent Cassel, Jennifer Aniston, Woody Harrelson, Matthew McConaughey, Vincent D'Onofrio, Jon Favreau, Bette Midler, Emily Watson, Skeet Ulrich, Jeanne Tripplehorn, Julianna Margulies, Ethan Hawke, John Hurt, James Woods, Kim Basinger, Marisa Tomei, Dwight Yoakam, Paul Rudd, Tom Sizemore, Fiona Shaw
Directed by Richard Linklater
Produced by Chris Columbus, Michael Barnathan, Laeta Kalogridis, Anne Walker-McBay, Toby Emmerich, Jerry Weintraub, Jeffrey Chernov, Mike Medavoy
Written by Richard Linklater
Searching for Showtimes ...
Please specify your location using the form below
Write a review for Newton Boys