National Treasure: Book of Secrets Showtimes and Tickets
Read Movie Reviews about National Treasure: Book of Secrets Write a Movie Review for National Treasure: Book of Secrets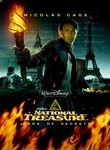 Synopsis...
In this follow up to "National Treasure," treasure hunter Ben Gates once again sets out on a new global quest to unearth hidden history and treasures. When a missing page from the diary of John Wilkes Booth suddenly surfaces, it implicates Ben's great-great grandfather as a key conspirator in Abraham Lincoln's assassination. Determined to prove his ancestor's innocence, Ben follows an international chain of clues that takes him on a chase from Paris to London and ultimately back to America. This journey leads Ben and his crew not only to surprising revelations--but to the trail of the world's most treasured secrets.
Cast and Crew
Starring
Harvey Keitel, Nicolas Cage, Helen Mirren, Ed Harris, Bruce Greenwood, Jon Voight, Joel Gretsch, Timothy V. Murphy, Diane Kruger, Randy Travis, Christian Camargo, Albert Hall, Alicia Coppola, Oliver Muirhead, Justin Bartha, Ty Burrell, Brent Briscoe, Scali Delpeyrat, David Ury, Larry Cedar, Guillaume Gallienne, Troy Winbush, Michael McCafferty, Emerson Brooks, Peter Woodward, John Travis, Scot Cregan, Liam Ferguson, Zachary Gordon, Michael Maize
Directed by Jerry Bruckheimer, Jon Turteltaub
Produced by Jerry Bruckheimer, Jon Turteltaub
Searching for Showtimes ...
Please specify your location using the form below
Write a review for National Treasure: Book of Secrets