My Name Is Bruce Showtimes and Tickets
Read Movie Reviews about My Name Is Bruce Write a Movie Review for My Name Is Bruce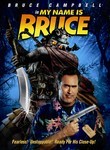 Release Date: 2008-10-31
Genre: Comedy, Horror
Rating: R
Duration: 1hr 24min
Synopsis...
Something evil is stirring in the small mining town of Gold Lick, and it's not happy. Guan-di, the Chinese protector of the dead with a strange affinity for bean curd, has been awakened by reckless teenagers, and now his bloody crusade to wipe out the town's entire population can only be stopped by one man--Bruce Campbell (the guy who starred in all three Evil Dead movies and Bubba Ho-tep), B-move star and deadbeat ex-husband extraordinaire, who's recruited to be their unwitting savior. Thinking the whole scenario's a publicity prank, Bruce is distracted from his mission by a hot mom and fan boys aplenty--but when our hero has to face off against a dark force more fearsome than a Hollywood agent, the laughs and screams start flying!
Cast and Crew
Starring
Bruce Campbell, Adam Boyd, Ellen Sandweiss, Ted Raimi, Mike Estes, Janelle Farber, Kieran Henthorn, Michael Kallio, Dan Hicks, Timothy Patrick Quill
Directed by Bruce Campbell
Produced by Bruce Campbell, Mike Richardson
Written by Mark Verheiden
Searching for Showtimes ...
Please specify your location using the form below
Write a review for My Name Is Bruce