Mishima: A Life in Four Chapters Showtimes and Tickets
Read Movie Reviews about Mishima: A Life in Four Chapters Write a Movie Review for Mishima: A Life in Four Chapters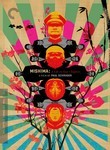 Release Date: Unknown
Genre: Drama,
Rating: NR
Duration: 2hrs 01min
Synopsis...
The fragments of an autobiography by the self-destructive Japanese writer, Yukio Mishima.
Cast and Crew
Starring
Roy Scheider, Naoko Otani, Ken Ogata, Hiroshi Mikami, Kenji Sawada, Haruko Kato, Masayuki Shionoya, Junya Fukuda, Shigeto Tachihara, Junkichi Orimoto
Directed by Paul Schrader
Produced by Francis Ford Coppola, Mataichiro Yamamoto, George Lucas, Tom Luddy
Written by Paul Schrader, Leonard Schrader, Yukio Mishima, Chieko Schrader
Searching for Showtimes ...
Please specify your location using the form below
Write a review for Mishima: A Life in Four Chapters