Meet Dave Showtimes and Tickets
Read Movie Reviews about Meet Dave Write a Movie Review for Meet Dave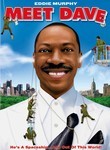 Synopsis...
A massive fireball from space hits New York's Central Park and an ordinary man emerges unscathed. The man turns out to be a spaceship operated by 100 human-looking aliens who are one-quarter inch tall and seeking a way to save their planet; complications ensue when their captain falls in love with an Earth woman who's always picked losers for previous romances.
Cast and Crew
Starring
Eddie Murphy, Scott Caan, Peter Ustinov, Gabrielle Union, Marc Blucas, Kevin Hart, Elizabeth Banks, Judah Friedlander, Paul Scheer, Sherman Alpert, Kevin Cannon, Jane Bradbury, Mike O'Malley, Ed Helms, Paul McGill, John Gatins, Jessica Lee Goldyn, Jim Turner, Carol Commissiong, Paul Basile, Brandon Molale, Philip Pavel, Brian Huskey, Blake Young-Fountain
Directed by Brian Robbins
Produced by Jon Berg, Todd Komarnicki
Written by Bill Corbett, Rob Greenberg
Searching for Showtimes ...
Please specify your location using the form below
Write a review for Meet Dave