Marley & Me Showtimes and Tickets
Read Movie Reviews about Marley & Me Write a Movie Review for Marley & Me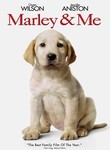 Release Date: 2008-12-25
Genre: Comedy,
Rating: PG
Duration: 2hrs 00min
Synopsis...
As the snow falls on their wedding night, newlyweds John and Jenny Grogan decide to leave behind the harsh winters of Michigan and head south to begin their new lives in West Palm Beach, Fla. They obtain jobs as journalists at competing local newspapers, buy their first home, and begin to make their way through the challenges of a new marriage, new careers and, possibly, the life-changing decision to start a family. Unsure of his preparedness for raising children, John confesses his fears to his friend and fellow journalist Sebastian, who comes up with the perfect solution: John should get Jenny a puppy. The Grogans adopt the cute, 12-pound yellow Labrador, who in no time at all, grows into a 100-pound steamroller of unbridled energy that turns the Grogan home into a disaster area. He flunks obedience school, chews off dry-wall, takes a bite out of the sofa, overturns garbage cans, steals a Thanksgiving turkey, consumes pillows and flowers, drinks toilet water, and chases the UPS guy. Even a newly-purchased, expensive necklace isn't safe from Marley's voracious antics. Amidst the mayhem he generates through the years, Marley sees the Grogans through the ups and downs of family life, through job and home changes, and most of all, through the myriad challenges of a growing family. As John and Jenny come to realize, Marley--"the world's worst dog"--somehow brings out the best in them.
Cast and Crew
Starring
Jennifer Aniston, Alan Arkin, Kathleen Turner, Owen Wilson, Eric Dane, Ann Dowd, Haley Bennett, Almudena Alcazar, Ana Ayora, Finley Jacobsen, Clarke Peters, Nathan Gamble
Directed by David Frankel
Produced by Gil Netter, Karen Rosenfelt
Written by Don Roos, John Grogan, Scott Frank
Searching for Showtimes ...
Please specify your location using the form below
Write a review for Marley & Me