Mambo Italiano Showtimes and Tickets
Read Movie Reviews about Mambo Italiano Write a Movie Review for Mambo Italiano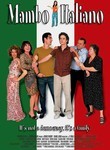 Dvd Release Date: 2004-02-17
Genre: Comedy,
Rating: R
Duration: 1hr 28min
Synopsis...
A handsome, young aspiring Canadian TV show writer, Angelo, decides to move in with his cop boyfriend, Nino, whom he's known since they were kids. Upon doing so, he's faced with the challenge of how to pull off the move, without his Italian immigrant parents discovering the truth about his sexuality--even as they're trying to set him up with a nice Italian-Canadian girl.
Cast and Crew
Starring
Mary Walsh, Ginette Reno, Paul Sorvino, Sophie Lorain, Johnny Griffin, Luke Kirby, Peter Miller, Pierrette Robitaille, Richard Jutras
Directed by Emile Gaudreault
Produced by Denise Robert, Daniel Louis
Written by Emile Gaudreault, Steve Galluccio
Searching for Showtimes ...
Please specify your location using the form below
Write a review for Mambo Italiano