Made of Honor Showtimes and Tickets
Read Movie Reviews about Made of Honor Write a Movie Review for Made of Honor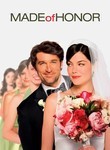 Release Date: 2008-05-02 (Nationwide)
Genre: Comedy, Romance
Rating: PG-13
Duration: 1hr 41min
Synopsis...
A man's in love with a woman, only the woman is engaged to someone else and asks the male friend to be her Maid of Honor. He agrees, with the intent of winning her heart for himself.
Cast and Crew
Starring
Richmond Arquette, Kevin McKidd, Patrick Dempsey, Busy Philipps, Christine Barger, Kelly Carlson, Kathleen Quinlan, Kadeem Hardison, Michelle Monaghan, Sydney Pollack, Beau Garrett, Clive Russell, Valerie Edmond, Craig Susser, James Sikking, Selma Stern, Morne Botes, Mary Birdsong, Whitney Cummings, Chris Messina, Sarah Wright, Paul Weiland, Ron Donachie
Directed by Paul Weiland
Produced by Tania Landau, Neal H. Moritz
Written by Adam Sztykiel, Deborah Kaplan, Harry Elfont
Searching for Showtimes ...
Please specify your location using the form below
Write a review for Made of Honor