Luck by Chance Showtimes and Tickets
Read Movie Reviews about Luck by Chance Write a Movie Review for Luck by Chance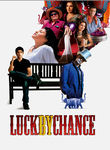 Synopsis...
The fantasy sellers and the devoted audience, the insane love for cinema mixed with the eccentric notion of divinity and archaic beliefs--these are the contradictions that keep this world spinning. The stark reality of living in India juxtaposed with the fantastical world depicted on screen suddenly begins to make senseÂ… "Luck By Chance" is about a slice of Bollywood life, in which Kismet plays a huge role. Here, notions of superstition, fate and destiny underline every life, as grand desires and opportunity converge to form strange patterns. In such an unpredictable climate, is success and failure what others define for you or is it something you decide for yourself? This is a contemporary tale set in a world desperate to escape its own reality.
Cast and Crew
Starring
Shahrukh Khan, Akshaye Khanna, Rishi Kapoor, Juhi Chawla, Dimple Kapadia, Kareena Kapoor, Abhishek Bachchan, Shah Rukh Khan, Konkona Sen Sharma, Boman Irani, Hrithik Roshan, Sanjay Kapoor, Isha Sharvani, Ranbir Kapoor, Arjun Mathur, Sheeba Chaddha, Farhan Akhtar, Anurag Kashyap, Konkona SenSharma, Isha Sharwani, Alyy Khan, Ronit Roy, Rani Mukerji
Directed by Zoya Akhtar
Produced by Farhan Akhtar, Ritesh Sidhwani
Written by Farhan Akhtar, Javed Akhtar, Zoya Akhtar
Searching for Showtimes ...
Please specify your location using the form below
Write a review for Luck by Chance