Love Aaj Kal Showtimes and Tickets
Read Movie Reviews about Love Aaj Kal Write a Movie Review for Love Aaj Kal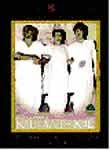 Release Date: 2009-07-31 (Limited)
Genre: Drama,
Rating: NR
Duration: 2hrs 02min
Synopsis...
The process of relationship might be different in different eras, but the experience of being in love remains the same. So there is the frolic and despair of modern living. The liberation and confusion. And there is the past - the times of innocence and compulsion. And there is distance, and the fondness that increases with distance. Gaps widen between two people, but bridges keep growing too.
Searching for Showtimes ...
Please specify your location using the form below
Write a review for Love Aaj Kal