Longshots Showtimes and Tickets
Read Movie Reviews about Longshots Write a Movie Review for Longshots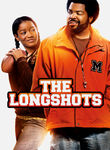 Dvd Release Date: 2008-12-02
Genre: Drama, Comedy
Rating: PG
Duration: 1hr 34min
Synopsis...
When Curtis Plummer, a down on his luck former high school football star, takes the only job he can find--babysitting his misfit niece Jasmine--he discovers that she has the skills that once made him a great quarterback. The only place these two opposites get along is on the field, so Curtis is determined to turn Jasmine into the star of the local team, The Minden Browns, and get his own stride back by becoming the coach. The boys on the team donÂ't want her but when this girl quarterback shows them sheÂ's got the skills, sheÂ'll turn their whole world upside down.
Cast and Crew
Starring
Ice Cube, Glenn Plummer, Wayne Dehart, David Banner, Dash Mihok, Matt Craven, Jill Marie Jones, Keke Palmer, Garrett Morris, Tasha Smith, Hugo Perez, Bruce Bryant, Debby Ryan, Malcolm Goodwin, Vincent Laresca
Directed by Fred Durst
Produced by Matt Alvarez, Ice Cube
Written by Doug Atchison, Nick Santora
Searching for Showtimes ...
Please specify your location using the form below
Write a review for Longshots