Little Caesar (1931) Showtimes and Tickets
Read Movie Reviews about Little Caesar (1931) Write a Movie Review for Little Caesar (1931)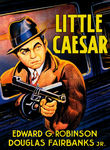 Release Date: 1931-01-25 (Limited)
Genre: Drama,
Rating: NR
Duration: 1hr 20min
Synopsis...
Edward G. Robinson exploded onto movie screens as Enrico Bandello, small-time thug turned hoodlum kingpin, and the rest was gangster movie history. 'Little Caesar' is still the mother of all underworld sagas.
Cast and Crew
Starring
Edward G. Robinson, Douglas Fairbanks Jr., Glenda Farrell, Maurice Black, Noel Madison, Lucille La Verne, Stanley Fields, Louis Natheaux, William Collier Jr., Sidney Blackmer, Thomas E. Jackson
Directed by Mervyn LeRoy
Written by Francis Edward Faragoh
Searching for Showtimes ...
Please specify your location using the form below
Write a review for Little Caesar (1931)