Life Before Her Eyes Showtimes and Tickets
Read Movie Reviews about Life Before Her Eyes Write a Movie Review for Life Before Her Eyes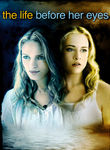 Synopsis...
Imaginative, impetuous and wild Diana can't wait for her adult life to begin. Whiling away the final days of high school in the lush springtime, Diana tests her limits with sex and drugs as her more conservative friend Maureen watches with concern. But, Diana's aura of invincibility is shattered when a senseless act of violence erupts at school, forever changing the lives of the two best friends. Fifteen years later, a grown Diana is still trying to come to terms with the traumatic events of that fateful day. On the surface, the adult Diana has made a picture perfect life for herself. She's still living in the sleepy Connecticut suburb she grew up in with her husband Paul, a professor at the local college. Her beautiful young daughter, Emma, is smart and creative and possesses a fiercely independent streak reminiscent of her mother. But, all is not well-as the anniversary of her adolescent trauma approaches, the darkness that Diana has tried to escape closes in. Meanwhile, her husband has become increasingly absent, her daughter has taken to hiding from teachers, and worst of all, Diana's own grip on reality is starting to falter.
Cast and Crew
Starring
Uma Thurman, Evan Rachel Wood, Oscar Isaac, James Urbaniak, Molly Price, Eva Amurri, Sherman Alpert, Evan Neumann, Lynn Cohen, Shayna Levine, Brett Cullen, Gabrielle Brennan, Tanner Cohen, Kia Jam, Anslem Richardson, Zachary Booth, John Magaro, Anne Clare Gibbons-Brown
Directed by Vadim Perelman
Produced by Anthony Katagas, Mark Cuban, Marc Butan, Vadim Perelman
Written by Laura Kasischke, Emil Stern
Searching for Showtimes ...
Please specify your location using the form below
Write a review for Life Before Her Eyes