Lesbian Vampire Killers Showtimes and Tickets
Read Movie Reviews about Lesbian Vampire Killers Write a Movie Review for Lesbian Vampire Killers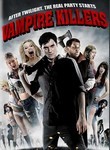 Synopsis...
When Jimmy is dumped by his girlfriend and his best mate Fletch gets fired, they decide to put their troubles behind them by embarking on a debauched weekend away in Wales. It all starts swimmingly as they arrive in a small Welsh village teeming with Swedish female students and not much else. After finding accommodation in a cottage at the edge of the hamlet, the boys unearth an ancient curse that turns all the girls in the village into--yep--lesbian vampires. It's now up to Jimmy and Fletch to fight off the bloodthirsty pack and break the curse.
Cast and Crew
Starring
Paul McGann, MyAnna Buring, James Corden, Tiffany Mulheron, Susie Amy, Silvia Colloca, Steve Clark-Hall, Mathew Horne, Michelle Carter, Ashley Mulheron, Louise Dylan
Directed by Phil Claydon
Produced by Steve Clark-Hall
Written by Paul Hupfield, Stewart Williams
Searching for Showtimes ...
Please specify your location using the form below
Write a review for Lesbian Vampire Killers