Kismat Konnection Showtimes and Tickets
Read Movie Reviews about Kismat Konnection Write a Movie Review for Kismat Konnection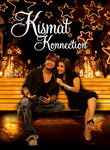 Release Date: 2008-07-18
Genre: Musical, Romance
Rating: NR
Duration: 2hrs 24min
Synopsis...
In college Raj Malhotra was number one in academics, sports, dramatics and touted as the next cover of Time Magazine. But five years after winning the best student of the year trophy from his architectural college, he's wondering why a brilliant architect like him, with designs to set the Canadian landscape on fire, is struggling to find that one big chance to showcase his mettle. It's almost as if some negative "kismat" is following him around. Raj meets a quirky oracle, Hasina Banjo Jaan. She tells him the stars will change and everything will work in his favor, but for all this to happen, Raj has first to find his lucky charm and never let go of it. But she tells him no more, leaving Raj mystified, trying to figure out what his charm could be. Suddenly and miraculously his life is on the right track. Does this mean Raj has discovered his lucky charm? Where will his new found "kismat" lead Raj?
Cast and Crew
Starring
Shahrukh Khan, Om Puri, Juhi Chawla, Shah Rukh Khan, Vidya Balan, Boman Irani, Shahid Kapoor, Shahid Kapur, Vishal Malhotra, Haidar Ali
Directed by Aziz Mirza
Produced by Kumar Sadhuram Taurani, Ramesh Sadhuram Taurani
Written by Sanjay Chel
Searching for Showtimes ...
Please specify your location using the form below
Write a review for Kismat Konnection