Jonas Brothers: The 3D Concert Experience (IMAX 3D) Showtimes and Tickets
Read Movie Reviews about Jonas Brothers: The 3D Concert Experience (IMAX 3D) Write a Movie Review for Jonas Brothers: The 3D Concert Experience (IMAX 3D)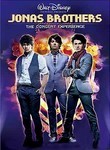 Release Date: 2009-02-27 (Limited)
Genre: Musical,
Rating: G
Duration: 1hr 16min
Also available in: Standard
Synopsis...
The Jonas Brothers head to the big screen in a high-energy Walt Disney Pictures rockumentary feature film event from director Bruce Hendricks ("Hanna Montana/Miley Cyrus: Best of Both Worlds Concert"). The film blends excerpts from the Brothers' red-hot "Burning Up" concert tour, including guest performances from Demi Lovato and Taylor Swift, with exclusive behind-the-scenes footage, off-the-wall segments, a never-before-heard song ("Love Is On Its Way"), swarming fans and lots of JB-style humor-giving fans never-before-seen insights into the lives of Kevin, Joe and Nick. "Jonas Brothers: A 3D Concert Experience" has been digitally re-mastered into the unparalleled image and sound quality of The IMAX Experience®.
Searching for Showtimes ...
Please specify your location using the form below
Write a review for Jonas Brothers: The 3D Concert Experience (IMAX 3D)