Jonah Hex Showtimes and Tickets
Read Movie Reviews about Jonah Hex Write a Movie Review for Jonah Hex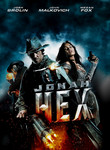 Synopsis...
Jonah Hex is a scarred drifter and bounty hunter of last resort, a tough and stoic gunslinger who can track down anyone and anything. Having survived death, Jonah's violent history is steeped in myth and legend, and has left him with one foot in the natural world and one on the "other side." His only human connection is with Leila, whose life in a brothel has left her with scars of her own. But Jonah's past is about to catch up with him when the U.S. military makes him an offer he can't refuse.
Cast and Crew
Starring
John Malkovich, Aidan Quinn, Josh Brolin, Will Arnett, Wes Bentley, Michael Fassbender, Lance Reddick, Michael Shannon, Elton LeBlanc, Jeffrey Dean Morgan, Darin Heames, Megan Fox, Rance Howard, Michael Papajohn, Jimmy Hayward, Paul Marshall, Sean Michael Cunningham, Billy Blair, Edward R. Cox, Akiyoshi Kumiko, Seth Gabel
Directed by Jimmy Hayward
Produced by Akiva Goldsman, Andrew Lazar
Written by Mark Neveldine, Brian Taylor, John Albano, Tony Dezuniga
Searching for Showtimes ...
Please specify your location using the form below
Write a review for Jonah Hex