Izo Showtimes and Tickets
Read Movie Reviews about Izo Write a Movie Review for Izo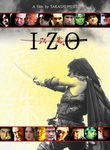 Synopsis...
Izo, an assassin attempting to kill the Shogun, is captured and crucified in 1865 Japan. His fury propels him through space and time to modern day Tokyo, where he begins exacting bloody revenge on the heirs of the Shogun. This in turn angers the Lords of the Universe, who raise an army of both Samurai and Yakuza to defeat Izo.
Cast and Crew
Starring
Kaori Momoi, Takeshi Kitano, Hiroyuki Nagato, Kenichi Endo, Hiroki Matsukata, Kazuya Nakayama, Ryuhei Matsuda, Ryosuke Miki, Susumu Terajima, Masumi Okada
Directed by Takashi Miike
Produced by Yashuiro Hatano, Hideo Takano, Hideohiro Ito
Written by Shigenori Takechi
Searching for Showtimes ...
Please specify your location using the form below