Inferno (1953) Showtimes and Tickets
Read Movie Reviews about Inferno (1953) Write a Movie Review for Inferno (1953)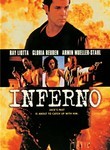 Release Date: 1953-08-12 (Limited)
Genre: Drama, Suspense/Thriller
Rating: NR
Duration: 1hr 23min
Synopsis...
An ordinary vacation trip turns into a desperate game of survival. Left to fend for himself in the desert, millionaire Carson (the great Robert Ryan) vows to enact revenge on those that left him there…if he can ever make it out alive. The first 3-D film from 20th Century Fox is a taut tale of suspense that joins the ranks of the very best survival films.
Searching for Showtimes ...
Please specify your location using the form below
Write a review for Inferno (1953)