Incident at Loch Ness Showtimes and Tickets
Read Movie Reviews about Incident at Loch Ness Write a Movie Review for Incident at Loch Ness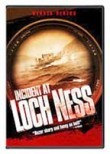 Release Date: 2004-09-17
Genre: Drama, Comedy
Rating: PG-13
Duration: 1hr 33min
Synopsis...
This farcical send-up of Werner Herzog's style of filmmaking is composed of a series of shorter films within the film, all dedicated to the legend of the Loch Ness monster.
Cast and Crew
Starring
Jeff Goldblum, Crispin Glover, Werner Herzog, Kitana Baker, Ricky Jay, Gabriel Beristain, Russell Williams, David Davidson, Zak Penn
Directed by Zak Penn
Produced by Werner Herzog, Zak Penn
Written by Werner Herzog, Zak Penn
Searching for Showtimes ...
Please specify your location using the form below
Write a review for Incident at Loch Ness