In a Lonely Place (1950) Showtimes and Tickets
Read Movie Reviews about In a Lonely Place (1950) Write a Movie Review for In a Lonely Place (1950)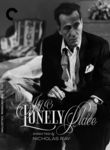 Release Date: 1950-05-17 (Limited)
Genre: Drama, Romance
Rating: NR
Duration: 1hr 34min
Synopsis...
Screenwriter Dixon Steele, faced with the odious task of scripting a trashy bestseller, has hatcheck girl Mildred Atkinson tell him the story in her own words. Later that night, Mildred is murdered and Steele is a prime suspect. His record of belligerence when angry and his macabre sense of humor tell against him. Fortunately, lovely neighbor Laurel Gray gives him an alibi. Laurel proves to be just what Steele needs, and their friendship ripens into love. Will suspicion, doubt and Steele's inner demons come between them?
Cast and Crew
Starring
Humphrey Bogart, Robert Warwick, Steven Geray, Frank Lovejoy, Gloria Grahame, Morris Ankrum, Jeff Donnell, Carl Benton Reid, Art Smith, William Ching
Directed by Nicholas Ray
Produced by Robert Lord
Written by Andrew Solt, Dorothy B. Hughes, Edmund H. North
Searching for Showtimes ...
Please specify your location using the form below
Write a review for In a Lonely Place (1950)