How to Lose Friends & Alienate People Showtimes and Tickets
Read Movie Reviews about How to Lose Friends & Alienate People Write a Movie Review for How to Lose Friends & Alienate People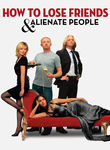 Release Date: 2008-10-03 (Nationwide)
Genre: Comedy,
Rating: R
Duration: 1hr 50min
Synopsis...
This fish-out-of-water tale tracks the escapades of Sidney Young, a smalltime, bumbling, British celebrity journalist. After disrupting one black-tie event by allowing a wild pig to run rampant, Sidney catches the attention of Clayton Harding, editor of Sharp, and accepts a job with the magazine in New York City. Clayton warns Sidney that he'd better impress and charm everyone he can, if he wants to succeed. Instead, Sidney instantly insults and annoys fellow writer Alison Olsen. He dares to target the star clients of power publicist Eleanor Johnson. He upsets his direct boss Lawrence Maddox and tries to make amends by hiring a stripper to dance for Lawrence during a staff meeting. Sidney, of course, doesn't stop there, finding creative ways to annoy nearly everyone.
Cast and Crew
Starring
Jeff Bridges, Thandie Newton, Miriam Margolyes, Gillian Anderson, Kirsten Dunst, Danny Huston, Brian Austin Green, Simon Pegg, Margo Stilley, Megan Fox, Bill Paterson
Directed by Robert B. Weide
Produced by Elizabeth Karlsen, Stephen Woolley
Written by Peter Straughan, Toby Young
Searching for Showtimes ...
Please specify your location using the form below
Write a review for How to Lose Friends & Alienate People