H.O.T.S. Showtimes and Tickets
Read Movie Reviews about H.O.T.S. Write a Movie Review for H.O.T.S.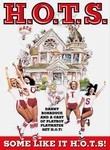 Release Date: 1979-05-01 (Limited)
Genre: Comedy,
Rating: R
Duration: 1hr 38min
Synopsis...
A college exploitation film focusing on the wild escapades of the women of H.O.T.S. Sorority. The antics include but are certainly not limited to a wet t-shirt contest, a sky-diving eposide, plenty of fraternity boys and even a house-keeping robot.
Searching for Showtimes ...
Please specify your location using the form below
Write a review for H.O.T.S.