Harsh Times Showtimes and Tickets
Read Movie Reviews about Harsh Times Write a Movie Review for Harsh Times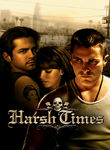 Synopsis...
Jim Davis is an ex-Army Ranger recently discharged from the military, yet still haunted by nightmares of his former occupation. While seeking a position with the LAPD that will allow him to marry his Mexican girlfriend and bring her to the United States, Jim kills time chilling with his best friend, Mike. Mike is feeling the heat from his long-time girlfriend, Sylvia: either get a job or get out. But the love of a beautiful woman can't compare to the bonds of friendship, and Jim and Mike are soon cruising the streets of South Central, slipping back into a deceitful life of drugs, violence and petty crime, just like when they were kids.
Cast and Crew
Starring
Christian Bale, J. K. Simmons, Freddy Rodriguez, Eva Longoria, Emilio Rivera, Noel Gugliemi, Terry Crews, J.K. Simmons, Tammy Trull, Adriana Millan, Sonia Iris Lozada, Kenneth Choi
Directed by David Ayer
Produced by Andrea Sperling, David Ayer, Mark Heidelberger
Written by David Ayer
Searching for Showtimes ...
Please specify your location using the form below
Write a review for Harsh Times