Goose on the Loose! Showtimes and Tickets
Read Movie Reviews about Goose on the Loose! Write a Movie Review for Goose on the Loose!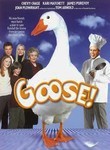 Release Date: Unknown
Genre: Comedy, Family
Rating: PG
Duration: 1hr 27min
Synopsis...
Randall the Goose is out on a summer date with his lifelong love Etta when he is suddenly snatched by Congreve Maddox, a gourmet cook and principal of Willow Springs Elementary, who wants to make Randall his trophy prize in a culinary contest. But Congreve meets his match in his next-door neighbors, a young boy Will and his precocious sister Emily. Will, who hasn't talked since his mother died, befriends Randall, who helps him regain his voice. Randall is no ordinary goose. He's a flatulent, wise-talking, and rebellious bird that understands the boy, and the two become fast buddies. When Randall realizes that Congreve Maddox is fattening him up in preparation for a prestigious cooking competition, he begs Will to save him. The boy hatches a plan with his sister, his dad, his beautiful schoolteacher and even Congreve's mother, all joining forces to save Randall.
Searching for Showtimes ...
Please specify your location using the form below
Write a review for Goose on the Loose!