Ghost Town (2008) Showtimes and Tickets
Read Movie Reviews about Ghost Town (2008) Write a Movie Review for Ghost Town (2008)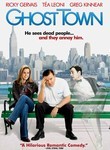 Release Date: 2008-09-19
Genre: SciFi/Fantasy,
Rating: PG-13
Duration: 1hr 42min
Synopsis...
Bertram Pincus is a man whose people skills leave much to be desired. When Pincus dies unexpectedly, but is miraculously revived after seven minutes, he wakes up to discover that he now has the annoying ability to see ghosts. Even worse, they all want something from him, particularly Frank Herlihy, who pesters him into breaking up the impending marriage of his widow Gwen.
Cast and Crew
Starring
Greg Kinnear, Aasif Mandvi, Kristen Wiig, Dennis Albanese, Milton Berle, Ricky Gervais, Dana Ivey, Billy Campbell, Danai Gurira, Alan Ruck, Linda Lavin
Directed by David Koepp
Produced by Gavin Polone
Written by David Koepp, John Kamps
Searching for Showtimes ...
Please specify your location using the form below
Write a review for Ghost Town (2008)