Get Shorty Showtimes and Tickets
Read Movie Reviews about Get Shorty Write a Movie Review for Get Shorty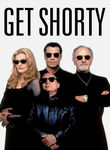 Dvd Release Date: 1997-03-26
Genre: Comedy,
Rating: R
Duration: 1hr 45min
Synopsis...
A mobster travels to Hollywood to collect a debt and discovers that the movie business is much the same as his current job.  Based on Elmore Leonards' 1990 novel of the same name.
Cast and Crew
Starring
John Travolta, Gene Hackman, Harvey Keitel, Charlton Heston, Orson Welles, Marlene Dietrich, John Wayne, Danny DeVito, Bette Midler, Dean Martin, Rene Russo, Alex Rocco, James Gandolfini, David Paymer, Dennis Farina, Jon Gries, Jacob Vargas, Jack Conley, Leslie Bega, Miguel Sandoval, Delroy Lindo, Linda Hart, Barry Sonnenfeld, Patrick Breen
Directed by Barry Sonnenfeld
Produced by Michael Shamberg, Danny DeVito, Stacey Sher
Written by Elmore Leonard, Scott Frank
Searching for Showtimes ...
Please specify your location using the form below
Write a review for Get Shorty