Fool's Gold Showtimes and Tickets
Read Movie Reviews about Fool's Gold Write a Movie Review for Fool's Gold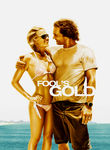 Synopsis...
Ben "Finn" Finnegan is an affable, modern-day treasure hunter who is obsessed with finding the legendary 18th century Queen's Dowry--40 chests of priceless treasure that was lost at sea in 1715. In his quest, Finn has sunk everything he has, including his marriage to Tess Finnegan. Just as Tess has begun to rebuild her life, working aboard a mega-yacht owned by billionaire Nigel Honeycutt, Finn discovers a vital clue to the treasure's whereabouts. Much to Tess' consternation, Finn maneuvers himself aboard Nigel's yacht and, using his roguish charm, convinces the tycoon and his celebutante daughter, Gemma, to join him in the pursuit of the Spanish treasure. But, they are not the only ones after the prize. Finn's one-time mentor, Moe Fitch and a ruthless local gangster are intent on beating Finn to the prize.
Cast and Crew
Starring
Matthew McConaughey, Donald Sutherland, Ray Winstone, Ewen Bremner, Kate Hudson, Kevin Hart, Adam LeFevre, Brian Hooks, Linda Cropper, Alexis Dziena, Roger Sciberras, Rohan Nichol
Directed by Andy Tennant
Produced by Bernie Goldmann, Donald De Line, Wink Mordaunt, Jon Klane
Written by Andy Tennant, Kenneth Lonergan, John Claflin
Searching for Showtimes ...
Please specify your location using the form below
Write a review for Fool's Gold