Flicka Showtimes and Tickets
Read Movie Reviews about Flicka Write a Movie Review for Flicka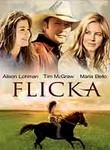 Dvd Release Date: 2007-02-06
Genre: Drama, Family
Rating: PG
Duration: 1hr 40min
Other movies in series: Flicka 2
Synopsis...
Sixteen-year-old Katy McLaughlin dreams of fulfilling her family legacy by working on her father's ranch in modern-day Wyoming. But Katy's father wants more for her, insisting that Katy go to college. Katy finds a wild mustang, which she names Flicka, and sets out to make her a riding horse. But, Flicka and Katy are more alike than she could have imagined. Like Katy, Flicka has a disdain for authority and is not about to give up her freedom without a fight. But, Katy's rancher father, the equally-willful Rob, sees nothing but trouble coming from the untamed animal and discourages his daughter from keeping her. Nonetheless, conflicted by a need to harness her own wild ways yet stay true to a free spirit within, Katy sets out to break through to Flicka and transform her into a riding horse.
Cast and Crew
Starring
Maria Bello, Buck Taylor, Alison Lohman, Ryan Kwanten, Tim McGraw, Nick Searcy, Dallas Roberts, Armie Hammer, Jeffrey Nordling, Dey Young, Danny Pino, Wade Williams, Sebastien Szumilas, Kaylee DeFer
Directed by Michael Mayer
Produced by Gil Netter
Written by Lawrence Konner, Mark D Rosenthal, Michael Blake , Mary O'Hara
Searching for Showtimes ...
Please specify your location using the form below
Write a review for Flicka