Flesh and the Devil (1926) Showtimes and Tickets
Read Movie Reviews about Flesh and the Devil (1926) Write a Movie Review for Flesh and the Devil (1926)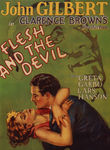 Release Date: 1926-12-25
Genre: Drama, Romance
Rating: NR
Duration: 1hr 31min
Synopsis...
Flesh and the Devil is a romantic melodrama that is most memorable for its nostalgic evocation of an impossibly elegant Austria, as well as for an erotically charged Communion service.
Cast and Crew
Starring
Barbara Kent, Greta Garbo, John Gilbert, Frankie Darro, Lars Hanson, Polly Moran, George Fawcett, Marc McDermott, Eugenie Besserer, Maurice Murphy
Directed by Clarence Brown
Produced by Irving Thalberg
Written by Benjamin Glazer, Marian Ainslee, Benjamin F. Glazer
Searching for Showtimes ...
Please specify your location using the form below
Write a review for Flesh and the Devil (1926)