Flashbacks of a Fool Showtimes and Tickets
Read Movie Reviews about Flashbacks of a Fool Write a Movie Review for Flashbacks of a Fool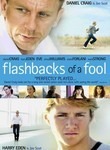 Dvd Release Date: 2008-09-22
Genre: Drama,
Rating: R
Duration: 1hr 47min
Synopsis...
A hedonistic British actor's Hollywood career is starting to nosedive as he hits his 40s. The death of his best friend from his English seaside childhood causes him to journey back home for the funeral, and prompts flashbacks to the tragedy that forced him to flee for a new life.
Cast and Crew
Starring
Daniel Craig, Jodhi May, Claire Forlani, Olivia Williams, Emilia Fox, Harry Eden, Helen McCrory, Keeley Hawes, Eve, James D'Arcy, Mark Strong, Miriam Karlin, Felicity Jones, Alfie Allen, Max Deacon
Directed by Baillie Walsh
Produced by Claus Clausen, Lene Bausager, Damon Bryant, Genevieve Hofmeyr
Written by Baillie Walsh
Searching for Showtimes ...
Please specify your location using the form below
Write a review for Flashbacks of a Fool