Fantastic Four: Rise of the Silver Surfer Showtimes and Tickets
Read Movie Reviews about Fantastic Four: Rise of the Silver Surfer Write a Movie Review for Fantastic Four: Rise of the Silver Surfer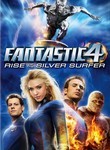 Synopsis...
The enigmatic, intergalactic herald, The Silver Surfer, comes to Earth to prepare it for destruction. As the Silver Surfer races around the globe wreaking havoc, Reed, Sue, Johnny and Ben must unravel the mystery of the Silver Surfer and confront the surprising return of their mortal enemy, Dr. Doom, before all hope is lost.
Cast and Crew
Starring
Laurence Fishburne, Julian McMahon, Ioan Gruffudd, Andre Braugher, Kerry Washington, Michael Chiklis, Jessica Alba, Kenneth Welsh, Chris Evans, Brian Posehn, Doug Jones, Beau Garrett, Zach Grenier, Vanessa Minnillo, Kevin McNulty
Directed by Tim Story
Produced by Michael Barnathan, Bernd Eichinger, Avi Arad, Ralph Winter
Written by Stan Lee, Jack Kirby, Mark Frost, Don Payne
Searching for Showtimes ...
Please specify your location using the form below
Write a review for Fantastic Four: Rise of the Silver Surfer