Evan Almighty Showtimes and Tickets
Read Movie Reviews about Evan Almighty Write a Movie Review for Evan Almighty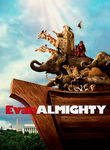 Dvd Release Date: 2007-10-09
Genre: Comedy,
Rating: PG
Duration: 1hr 30min
Synopsis...
Evan Baxter, the polished, preening newscaster of "Bruce Almighty," is the next one anointed by God to accomplish a holy mission. Newly elected to Congress, Evan leaves Buffalo behind and shepherds his family to suburban northern Virginia. Once there, his life gets turned upside-down when God appears and mysteriously commands him to build an ark. But his befuddled family just can't decide whether Evan is having an extraordinary mid-life crisis or is truly onto something of Biblical proportions.
Cast and Crew
Starring
Morgan Freeman, Molly Shannon, Suzy Nakamura, John Goodman, Steve Carell, Harve Presnell, Graham Phillips, Lauren Graham, Larry Sullivan, Jimmy Bennett, Casey Strand, Jonah Hill, Jon Stewart, Maile Flanagan, Tucker Smallwood, Larry Dorf, John Michael Higgins, Brian Howe, Wanda Sykes, James Shanklin, Catherine Bell, Ed Helms, Phil Reeves, Thomas Crawford, David Barrera, David Cohen, Paul Collins, Dean Norris, Gregg Daniel, Johnny Simmons, Audrey Wasilewski, Jeremiah Birkett, Rachael Harris, Simon Helberg, Brendan Patrick Connor, Marc A. Hutchins
Directed by Tom Shadyac
Produced by Tom Hanks, Gary Goetzman, Roger Birnbaum, Michael Bostick, Neal H. Moritz, Gary Barber, Tom Shadyac
Written by Steve Oedekerk, Steve Koren, Mark O'Keefe, Josh Stolberg
Searching for Showtimes ...
Please specify your location using the form below
Write a review for Evan Almighty