Eurotrip Showtimes and Tickets
Read Movie Reviews about Eurotrip Write a Movie Review for Eurotrip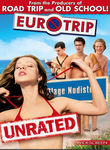 Dvd Release Date: 2004-06-01
Genre: Comedy,
Rating: R
Duration: 1hr 32min
Synopsis...
Scotty will be graduating high school--thanks to his German pen-pal who translates all of his German homework for him. When he finds out that his pen pal is an attractive young German woman, he convinces three of his pals to trek through Europe on a quest for true love.
Cast and Crew
Starring
Michelle Trachtenberg, Matt Damon, Rade Serbedzija, Vinnie Jones, Jeffrey Tambor, Diedrich Bader, Scott Mechlowicz, Joanna Lumley, Kristin Kreuk, Jacob Pitts, Lucy Lawless, Patrick Malahide, J.P. Manoux, Travis Wester, Fred Armisen, Jessica Böhrs
Directed by Alec Berg, David Mandel, Jeff Schaffer
Produced by Joe Medjuck, Jackie Marcus, David Mandel, Daniel Goldberg, Jeff Schaffer, Alec Berg
Written by Alec Berg, David Mandel, Jeff Schaffer
Searching for Showtimes ...
Please specify your location using the form below
Write a review for Eurotrip