Employee of the Month Showtimes and Tickets
Read Movie Reviews about Employee of the Month Write a Movie Review for Employee of the Month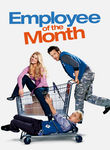 Dvd Release Date: 2007-01-16
Genre: Comedy, Drama
Rating: PG-13
Duration: 1hr 43min
Synopsis...
For customers of Super Club, the largest high-volume, bulk-discount retailer in the country, membership has its privileges. For workers at the cavernous store, the most coveted honor is the "Employee of the Month" award, and having one's photo immortalized on the wall of fame in the staff lounge. Enter Zack Bradley and Vince Downey, two ultra competitive Super Club workers whose 10 years of employment have resulted in drastically different career paths. While Vince -- with the aid of his trusty sidekick Jorge -- has advanced to become head cashier and winner of 17 consecutive "E of M" awards, Zack is the ultimate slacker whose scruffy appearance and laid back attitude has made him popular with his colleagues, but kept him stuck in the lowly ranks of the store's box boys. The duo's longtime rivalry comes to a bitter head when Amy -- a beautiful new cashier with a reputation of only dating "Employee of the Month" winners -- transfers to the store, immediately becoming the object of both Zack and Vince's affection and often comical gamesmanship. While Vince instantly impresses Amy with his crowd pleasing, flamboyant style behind his check stand register, Zack's feeble attempts to charm his beautiful new co-worker quickly backfire against him. With the race to win Amy's affections slipping away, Zack determines his only chance rests in winning the store's next "Employee of the Month" award.
Cast and Crew
Starring
Matt Dillon, Harland Williams, Steve Zahn, Christina Applegate, Dave Foley, Dax Shepard, Paul Dooley, Jessica Simpson, Dane Cook, David Pasquesi, Jenna Fischer, Efren Ramirez, Noel Gugliemi, Peter Jason, Andrea Bendewald, Jay Leggett
Directed by Mitch Rouse, Greg Coolidge
Produced by Joe Simpson, Cathy Schulman, Bob Yari, Robert L. Levy, Andrew Panay, Mark Curcio, Barry Katz, Peter Abrams, Brian Volk-Weiss
Written by Mitch Rouse, Greg Coolidge, Jay Leggett, Don Calame, Chris Conroy
Searching for Showtimes ...
Please specify your location using the form below
Write a review for Employee of the Month