Education of Charlie Banks Showtimes and Tickets
Read Movie Reviews about Education of Charlie Banks Write a Movie Review for Education of Charlie Banks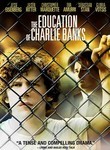 Release Date: 2009-03-27 (NY/LA)
Genre: Drama,
Rating: R
Duration: 1hr 40min
Synopsis...
"The Education of Charlie Banks" is a coming-of-age tale that spans from the playgrounds of lower Manhattan to the idyllic greens of Vassar College. It is a story about change, inevitability and about facing one's fears.
Cast and Crew
Starring
Jesse Eisenberg, Chris Marquette, Kal Thompson, Jason Ritter, Sebastian Stan, William DeCoff, Eva Amurri, Christopher Marquette, Steven Hinkle, Jeremy Schwartz, Gloria Votsis, Danny A. Abeckaser, Josh Richman, Charles Parnell
Directed by Fred Durst
Produced by Marisa Polvino
Written by Peter Elkoff
Searching for Showtimes ...
Please specify your location using the form below
Write a review for Education of Charlie Banks