Echelon Conspiracy Showtimes and Tickets
Read Movie Reviews about Echelon Conspiracy Write a Movie Review for Echelon Conspiracy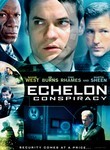 Synopsis...
Mysterious cell phone messages promise a young American engineer untold wealth--then make him the target of a deadly international plot. Dangerous security operatives chase the engineer across the globe, while a powerful government official pursues a mysterious agenda that threatens the stability of the entire world.
Cast and Crew
Starring
Edward Burns, Jonathan Pryce, Martin Sheen, Ving Rhames, Shane West, Yuri Kutsenko, Tamara Feldman, Todd Jensen, Trevor White, Sergey Gubanov, Gosha Kutsenko, Steven Elder
Directed by Greg Marcks
Produced by Steve Richards, Roee Sharon, Alexander Leyviman
Written by Kevin Elders, Michael Nitsberg
Searching for Showtimes ...
Please specify your location using the form below
Write a review for Echelon Conspiracy