Dr. No (1962) Showtimes and Tickets
Read Movie Reviews about Dr. No (1962) Write a Movie Review for Dr. No (1962)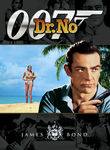 Release Date: 1963-05-08
Genre: Action/Adventure, Suspense/Thriller
Rating: NR
Duration: 1hr 45min
Synopsis...
Sean Connery was cast in the lead role and the film featured the usual Broccoli touch of exotic locations: this time Jamaica and surrounding waters, from which a bikini-clad Ursula Andress memorably emerged. A fast-paced colourful romp, the film became an enormous hit worldwide.
Cast and Crew
Starring
Sean Connery, Ursula Andress, Martine Beswick, Joseph Wiseman, Anthony Dawson, Bernard Lee, John Kitzmiller, Chris Blackwell, Jack Lord, Lois Maxwell, Reggie Carter
Directed by Guy Hamilton, Terence Young
Produced by Harry Saltzman, Stanley Sopel, Albert R. Broccoli
Written by Ian Flemming, Terence Young, Richard Maibaum, Johanna Harwood
Searching for Showtimes ...
Please specify your location using the form below
Write a review for Dr. No (1962)