Dr. Dolittle Showtimes and Tickets
Read Movie Reviews about Dr. Dolittle Write a Movie Review for Dr. Dolittle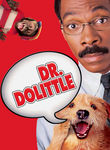 Synopsis...
A skilled physician, Dr. John Dolittle has long suppressed a very special talent he possessed as a child: the ability to communicate with animals. Forgotten are his childhood memories of counsel with his four-legged friend until a near accident awakens his long dormant talents. Now owls, horses, guinea pigs -- anything that could claim a spot in the animal kingdom -- seek his medical advice. Dolittle's confusion, his colleague's terror and his family's concern are all alleviated as a healthy dose of animal behavior reminds him what it means to be human.
Cast and Crew
Starring
Ellen DeGeneres, Eddie Murphy, Albert Brooks, Ossie Davis, Paul Reubens, John Leguizamo, Julie Kavner, Garry Shandling, Chris Rock, Jenna Elfman, Jonathan Lipnicki, Jeffrey Tambor, Paul Giamatti, Kristen Wilson, Kyla Pratt, Krisen Wilson, Oliver Platt, Peter Boyle, Erik Dellums, Richard Schiff, Don Calfa, Steven Gilborn, Betty Thomas, Brian Doyle-Murray, Gilbert Gottfried
Directed by Betty Thomas
Produced by Sue Baden-Powell, Joseph Singer
Written by Nat Mauldin, Larry Levin, Hugh Lofting
Searching for Showtimes ...
Please specify your location using the form below
Write a review for Dr. Dolittle