Don Giovanni (San Francisco Opera) Showtimes and Tickets
Read Movie Reviews about Don Giovanni (San Francisco Opera) Write a Movie Review for Don Giovanni (San Francisco Opera)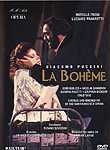 Release Date: 2008-04-12
Genre: Musical,
Rating: NR
Duration: 3hrs 30min
Synopsis...
Don Giovanni is an infinitely nuanced nobleman and rake who lives for his libido, arrogantly flouting the most basic social conventions. Only Leporello, his trickster servant, adds a comic note as he helps his master make his conquests. Don Giovanni racks up a long list of enemies who seek to bring him down. In the end, however, only divine retribution can deliver justice.
Searching for Showtimes ...
Please specify your location using the form below
Write a review for Don Giovanni (San Francisco Opera)