DOA: Dead or Alive Showtimes and Tickets
Read Movie Reviews about DOA: Dead or Alive Write a Movie Review for DOA: Dead or Alive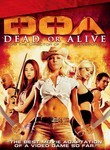 Synopsis...
Four voluptuous girls, each with unique fighting styles, are invited to partake in the "Dead or Alive" world fighting tournament on an exotic island.
Cast and Crew
Starring
Eric Roberts, Steve Howey, Natassia Malthe, Brian J. White, Jaime Pressly, Devon Aoki, Sarah Carter, Matthew Marsden, Collin Chou, Kane Kosugi, Holly Valance, Kevin Nash
Directed by Corey Yuen
Produced by Mark A. Altman, Bernd Eichinger, Jeremy Bolt, Paul W.S. Anderson, Robert Kulzer
Written by Adam Gross, Seth Gross
Searching for Showtimes ...
Please specify your location using the form below
Write a review for DOA: Dead or Alive