Dish Showtimes and Tickets
Read Movie Reviews about Dish Write a Movie Review for Dish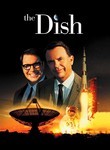 Dvd Release Date: 2001-08-28
Genre: Drama,
Rating: PG-13
Duration: 1hr 41min
Synopsis...
On July 20, 1969, six hundred million people sat glued to their televisions for man's first steps on the moon. It is an image permanently ingrained in our collective consciousness, but one that almost didn't make it to the airwaves. Based on true-life events, The Dish is a waggish homage to the small-town heroes responsible for a historically almost calamitous blunder. Outside the small, sleepy town of Parkes, a team of laid-back astro-technicians led by project director Cliff Buxton and NASA agent Al Burnett ready the Southern Hemisphere's largest satellite dish to transmit the historic broadcast. But amidst a swirling media frenzy and overly effusive civic pride, things start to go awry; the team has lost the signal and must scramble to find the astronauts before NASA discovers their grievous error.. And you thought Sydney 2000 was the first time we showed the world!
Cast and Crew
Starring
Sam Neill, Patrick Warburton, Tom Long, Kevin Harrington, Genevieve Mooy, Jeff Martin
Directed by Rob Sitch
Produced by Tom Gleisner, Rob Sitch, Santo Cilauro, Jane Kennedy
Written by Tom Gleisner, Santo Cilauro, Jane Kennedy, Rob Sitch
Searching for Showtimes ...
Please specify your location using the form below