Diminished Capacity Showtimes and Tickets
Read Movie Reviews about Diminished Capacity Write a Movie Review for Diminished Capacity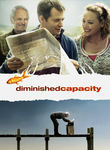 Release Date: 2008-07-04 (NY/LA/CHI)
Genre: Comedy,
Rating: NR
Duration: 1hr 32min
Synopsis...
How much is a good memory worth? That's the question that faces newspaper editor Cooper after a debilitating concussion takes him from the political pages to comic strip detail. Looking for answers, he travels home to Missouri where his now senile Uncle Rollie is on the verge of losing his home. When a valuable baseball card is thrown into the mix, these two men along with a motley group of hometown friends, including Cooper's high school sweetheart, Charlotte, head to a memorabilia expo to make the deal of a century. They dive headfirst into a snake pit of slick salesmen, crooked dealers and rabid fans only to discover that there are some things in life that you can't put a price on.
Cast and Crew
Starring
Matthew Broderick, Alan Alda, Virginia Madsen, Jimmy Bennett, Bobby Cannavale, Dylan Baker, Jim True-Frost, Lois Smith, Louis C.K., Jeff Perry, Tom Aldredge
Directed by Terry Kinney
Produced by Daniela Taplin Lundberg, Galt Niederhoffer, Tim Evans, Celine Rattray
Written by Doug Bost, Sherwood Kiraly
Searching for Showtimes ...
Please specify your location using the form below
Write a review for Diminished Capacity