Deuce Bigalow: European Gigolo Showtimes and Tickets
Read Movie Reviews about Deuce Bigalow: European Gigolo Write a Movie Review for Deuce Bigalow: European Gigolo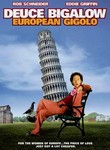 Dvd Release Date: 2005-11-29
Genre: Comedy,
Rating: R
Duration: 1hr 23min
Synopsis...
Deuce Bigalow is seduced back to his unlikely pleasure-for-pay profession, when his former pimp T.J. Hicks is implicated in the murders of Europe's greatest gigolos. Deuce must go back to work in order to clear his good friend's name. Along the way, he must compete against the powerful European Union of prosti-dudes and court another bevy of abnormal female clients including the beautiful Eva, who suffers from acute obsessive-compulsive disorder.
Cast and Crew
Starring
Adam Sandler, Til Schweiger, Eddie Griffin, Alex Dimitriades, Rob Schneider, Kelly Brook, Norm Macdonald, Arija Bareikis, Rachel Stevens, Oded Fehr, Edwin Alofs, Johnny de Mol, Fred Armisen, Carlos Ponce, Daan Schuurmans, Jimmy Gardner, Bobbi Sue Luther, Federico Dordei, Chantal Janzen, Hanna Verboom
Directed by Michael Bigelow
Produced by Adam Sandler, Rob Schneider, Nathan T R, Jack Giarraputo, Michael Chinich, John Schneider
Written by Rob Schneider, Harris Goldberg, Jason Ward, David Garrett, TJ Schneider, Josh Lieb
Searching for Showtimes ...
Please specify your location using the form below
Write a review for Deuce Bigalow: European Gigolo