Demons (Demoni) Showtimes and Tickets
Read Movie Reviews about Demons (Demoni) Write a Movie Review for Demons (Demoni)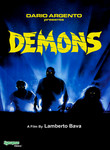 Dvd Release Date: 1999-03-16
Genre: Horror,
Rating: NR
Duration: 1hr 28min
Synopsis...
Ravenous demons attack spectators in a large movie theater. The demons proceed to kill and posses the humans one-by-one.
Cast and Crew
Starring
Urbano Barberini, Natasha Hovey, Karl Zinny, Fiore Argento, Bobby Rhodes, Nicoletta Elmi, Paola Cozzo, Lamberto Bava, Michele Soavi, Stelio Candelli, Geretta Geretta
Directed by Lamberto Bava
Produced by Dario Argento
Written by Dario Argento, Lamberto Bava, Dardano Sacchetti, Franco Ferrini
Searching for Showtimes ...
Please specify your location using the form below
Write a review for Demons (Demoni)