Delhi-6 Showtimes and Tickets
Read Movie Reviews about Delhi-6 Write a Movie Review for Delhi-6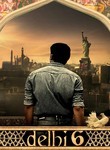 Release Date: 2009-02-20 (Limited)
Genre: Drama,
Rating: NR
Duration: 2hrs 20min
Synopsis...
Roshan travels from the United States to India with his ailing grandmother. Little does he know that this quick trip will turn into the longest journey of his life--a journey within! The story is told against the backdrop of the ancient walled city of Delhi which is a character by itself. A city that represents the chaos of Indian people, their religion and their beliefs. The pin code of this old city is 110006. With pride and love they call it DELHI-6.
Searching for Showtimes ...
Please specify your location using the form below
Write a review for Delhi-6