Deception Showtimes and Tickets
Read Movie Reviews about Deception Write a Movie Review for Deception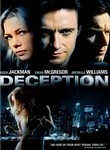 Synopsis...
"Are you free tonight?" A simple enough question, but how Jonathan McQuarry answers it will change his life forever. A corporate auditor adrift in a sea of New York's power elite, Jonathan's work is his entire life. But, a chance meeting with Wyatt Bose, a charismatic corporate lawyer, introduces Jonathan to a decadent playground for Manhattan's executive upper crust. For these power brokers, whose 18-hour workdays leave no time for a personal life, there's "The List"--a sex club, of sorts, where the right cell-phone number and four simple words ("Are you free tonight?") can lead to an evening's sexual fulfillment. It's a world of "intimacy without intricacy," as Jonathan's first conquest (or vice versa) explains to him, and through The List Jonathan discovers a side of himself that he didn't know existed. But an affair with a ravishing and mysterious stranger known to Jonathan only by her first initial 'S', will expose him to yet another world he never imagined--one of betrayal, treachery and murder.
Cast and Crew
Starring
Bette Davis, Claude Rains, Ewan McGregor, Hugh Jackman, Michelle Williams, Paul Henreid, Rachael Taylor, Maggie Q
Directed by Marcel Langenegger, Irving Rapper
Produced by Marjorie Shik, Henry Blanke
Written by Mark Bomback, Jason Keller, Joseph Than
Searching for Showtimes ...
Please specify your location using the form below
Write a review for Deception