Dead or Alive Showtimes and Tickets
Read Movie Reviews about Dead or Alive Write a Movie Review for Dead or Alive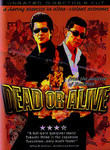 Synopsis...
In Tokyo's crime-infested Shinjuku quarter, a cop by the name of Jojima is drawn into criminal fraternization with the ruthless yakuza mobster Ryuichi in order to finance his daughter's operation.
Cast and Crew
Starring
Sho Aikawa, Shingo Tsurumi, Ren Osugi, Riki Takeuchi, Renji Ishibashi, Hitoshi Ozawa, Susumu Terajima, Kaoru Sugita, Dankan, Michisuke Kashiwaya
Directed by Takashi Miike
Produced by Makoto Okada, Katsumi Ono, Toshiki Kimura
Written by Ichiro Ryu
Searching for Showtimes ...
Please specify your location using the form below
Write a review for Dead or Alive